Techno India Group follows the principle that wherever we work, we strive to achieve beyond our benefits. The idea of Corporate Social Responsibility is no longer limited to donations and charity events only. Nowadays, the basic objective of Corporate Social Responsibility is to maximize the company's overall impact on society. We work as social entrepreneurs by conducting various community development programs under various schemes on all our campuses as well as in various parts of North Bengal. Techno India Group has always been beside students from the financially backward section of society in pursuance of their dreams through education and empowerment. When you educate a girl, you educate an entire community, so from this year we have decided to provide scholarships for underprivileged girl students. Techno India Group has always believed in serving society at large. It has been working for the cause and care of the elderly all over North Bengal, actively participating in stimulating awareness and raising funds for the aged through HelpAge India.
Techno India Group Uttarbanga Medha Ratna Utsav is held every year to felicitate the toppers of all boards of schools across North Bengal. Students and their parents from all districts of North Bengal attend the celebrations at the Siliguri campus of Techno India Group Public School. Several underprivileged students from the adjacent tea gardens and slums across Siliguri town and neighboring areas are motivated every year as a part of the Uttarbanga Medha Ratna Utsav by gifting them educational hampers. Most of these children are the first in their families who are being educated, so it is important to make them feel encouraged. We would in the future celebrate the Medha Ratna Utsav on a state level instead of only felicitating the board toppers of North Bengal. We are already in the practice of adopting at least one underprivileged school near any Techno India Group Public School campus and nurturing it. We are constantly striving to make a significant difference in society and to improve the overall quality of life, and we would continue to do so. Aveelasha the community development Share & Care Unit under Techno India Group has been a blessing to the inhabitants of North Bengal. Mahavir Gram, a remote village near Siliguri where several leprosy patients are being treated, was the first area of operation and clothes were distributed to more than eighty families. Volunteers interacted with the lepers too, hearing their stories and assuring them that they are not isolated. Aveelasha has been conducting donation camps in remote areas like Gulma, Sukna and Sevoke round the year, and is serving the needy with their basic needs.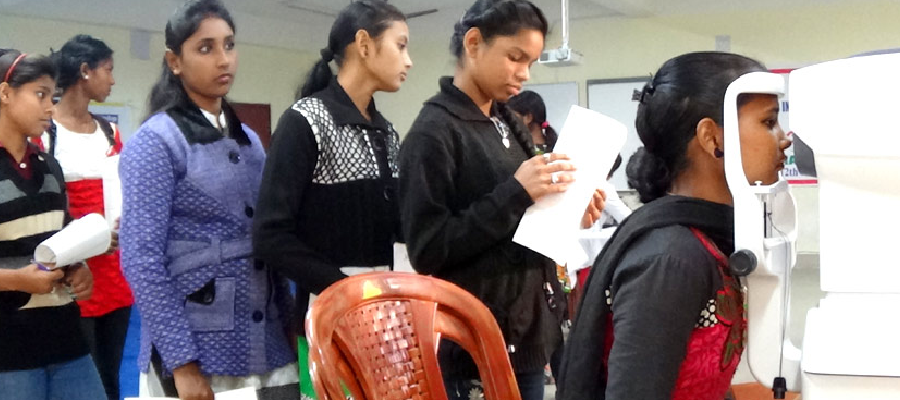 Techno India Group Public School, Jalpaiguri took up a venture under the Corporate Social Responsibility (CSR) Programs and started a project on girls' rights named Pratyay. Class ten dropouts of various government schools in and around Jalpaiguri were regularly given training for six months. As a part of free health check-ups for the students, an eye check-up camp was organized. They had to attend school six days a week and take actively participate in science practical sessions in laboratories. Weekly mock tests were conducted to evaluate their academic progress after which they could appear for their board examinations.